Abu Dhabi, UAE: Tamakkan hosted the International Coach Federation (ICF) UAE, Abu Dhabi Subchapter's knowledge sharing event for leaders, talent development managers and coaches interested to bring a coaching culture into their organizations and private practice.
The event was organized by Suhair Fakhoury, Board Director ICF UAE Chapter & Abu Dhabi Subchapter Leader and moderated by Maged Khalaf ICF certified coach. The panel included coaches from du – Alia Al Serkal & Steve Page, ARAMEX – Nehad Tadros, Etihad Airways – Dana Salameh and EY – Dalal Denley. The event was attended by various industry professionals and coaches. The event was hosted at and co-organised in collaboration with Tamakkan, a knowledge sharing and training platform supported by BrandMoxie Abu Dhabi, UAE.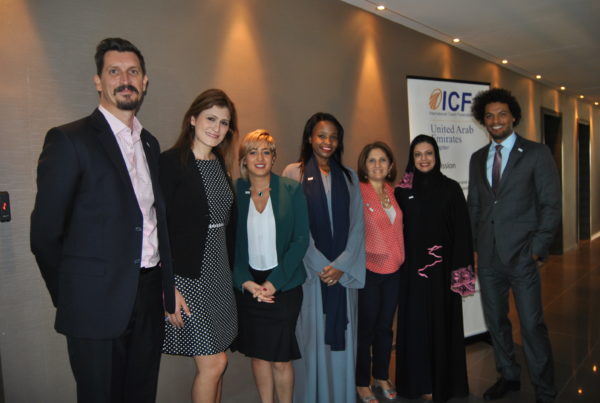 The ICF UAE Chapter exists for the purpose of empowering coaches and the coaching profession in the region. In 2005 ICF Global adopted the Prism Award concept developed to recognize each year outstanding organizational coaching initiatives in the world. In this context, a specific Middle East Prism Award was organized in 2017 and it was awarded in Dubai in May to ARAMEX with du, Etihad, EY and Oman Shipping Company S.A.O.C. receiving honorable mentions.
The event started with a welcome note from Suhair ICF Abu Dhabi Subchapter Leader. The opening remarks from Maged opened the floor for discussion. As Maged noted, today's businesses are under pressure due to market uncertainty and an unpredictable economic situation. This poses a great challenge to business professionals and coaches being associated with the development of people and organizations at large. Today's introduction of coaching undoubtedly has become a business imperative.
Maged asked how the coaches in the panel have successfully implemented coaching practices in their respective organization for developing young leaders, identifying future leadership potential, culture development and emiratization and how this was integrated with the business outcomes.
The organizations first identified the business need for coaching and how it can be integrated with the business performance and with people development. For instance, ARAMEX is a corporate ICF member with dedicated internally certified team for coaching with allocated budget. Eithad Airways continues to evolve as an economic and employment engine for the UAE and the region. Professional coaching plays a significant role in UAE National Development and in building an internal talent pool of accredited coaches. In addition to using coaching for Emirati female skills development, Etihad has launched an internal project to bring catering operational excellence by introducing coaching as a tool. It is yet to embark on a plan to integrate coaching within their continuous improvement framework using internal and external certified coaches intelligently on diverse bespoke projects as a catalyst before taking it to other business segments.
EY pioneered the coaching culture in EY MENA business segments through internal certification program and offered coaching to partners, senior managers and female staff members particularly. EY also introduced coaching in their Emirati leadership development program. du is operating in a technologically focused industry and has introduced coaching for executives and leaders to improve organizational competence, behaviors and for aligning people's purpose with that of the organization.
The panel emphasized that coaching must be introduced with the end in mind. It does not provide all the answers to business challenges and team issues but it certainly develops curiosity to ask right questions rather than judging others. It also helps developing a culture in which providing constructive feedback with empathy is valued and people are encouraged to continuously improve and develop. It is neither teaching nor training but an open and empowering communication mechanism between coachee and coach.
The panel stated that it provides room for making mistakes but not to repeat mistakes. Coaching in the organization can be introduced by applying it to a selected segment, individual or a team. Like all other change management programs, coaching programs need an internal sponsor, a like-minded group of people or a critical mass to help spread the word and generate buy-in. A few quick wins also help to generate the momentum and establish credibility. Coaching skills are not only helpful in professional lives but are equally beneficial in personal lives and relationships.
It was highlighted that a mix of internal and external certified coaches maximizes the coaching impact on any business. A certified and qualified coach brings best practices and framework into the organization. The panel quoted using social media campaigns with the support of ICF certified coaches for learning sessions to introduce coaching to their employees to help them in developing their mindset and establish a need for coaching.
The organizations seeking to incorporate coaching in their businesses can engage an ICF certified coach, conduct chemistry sessions to understand the 'coach – organization' compatibility, select a business segment and run a pilot coaching program. It then can analyze its outcomes after a 6 months' time frame. The use of individual and group assessments can also help organizations to clarify what they need from coaches. It also identifies coaching resources needed to launch a full scale coaching program and targeted skills development initiatives.
Coaching can be applied to any industry regardless of size and nature provided the right framework is in place and that it is aligned with business needs. The impact of coaching can be assessed using various methods and tools.
Dalal, President ICF UAE Chapter shared with the audience the imminent collaboration of ICF with the UAE Ministry of Education to coach 1,000 principals and heads of schools in UAE. The UAE government is eager to introduce a coaching culture in the education sector and to impart coaching skills to education professionals.
The session was concluded with a panel reflection on the benefits of introduction coaching skills and a coaching culture in organizations. From the panel's point of view, such approach compliments business performance and it plays a critical role in transforming organization culture, developing constructive feedback mechanisms, developing future leadership potential, maximizing personal success, empowering people, improving the overall wellbeing of employees, taking tough decisions and bringing positive change within the organization ecosystem.
Suhair, ICF Abu Dhabi Subchapter Leader concluded with a thank you note to all the coaches on the panel, the Abu Dhabi Subchapter strategy team, the audience and Tamakkan for their support in organizing the event. She also sought feedback and support from all participants to promote ICF Abu Dhabi Subchapter as a knowledge sharing hub and a community of coaches to further develop coaching culture across UAE.
Written by Fahd Khan